Knowing where we came from, our personal history, sheds light on who we our today. I have always felt there was some scandalous intrigue surrounding my birth. In 1963, when I was eighteen, I was ready to get married and get out on my own. When I had to have a copy of my birth certificate, my father, Robert Johnston, told me it would have a different last name than his. I had not known anything about this; so, it was quite a shock. He gave some feeble story, basically skirting the issue. It was not a subject he ever wanted to discuss. I asked my mother, Carol, but met with a similar attitude. Over the years, conflicting bits of the mystery would unravel.
To this day, the whole truth is really not known. Recently I called my older sister, Pat, to see what she could tell me. Pat was six when I was born but she had always been confused about the events that took place. Many years later,she had asked our mother, Carol, to tell all. Pat wrote down the story that was told to her so she could sort it out.
The story goes that Carol Powers left home in 1938 to marry Edward James Krebs, a railroad worker, when she was eighteen. She was really getting away from her overpowering older adoptive mother. Ed was a real mamma's boy who would go to stay with his mother quite often. Carol had a love affair with Norman Young. She became pregnant with his child and had a girl, Patricia, in July 1939. She put Krebs as her daughter's last name. Norman Young, a pilot in the service, was killed overseas during the war.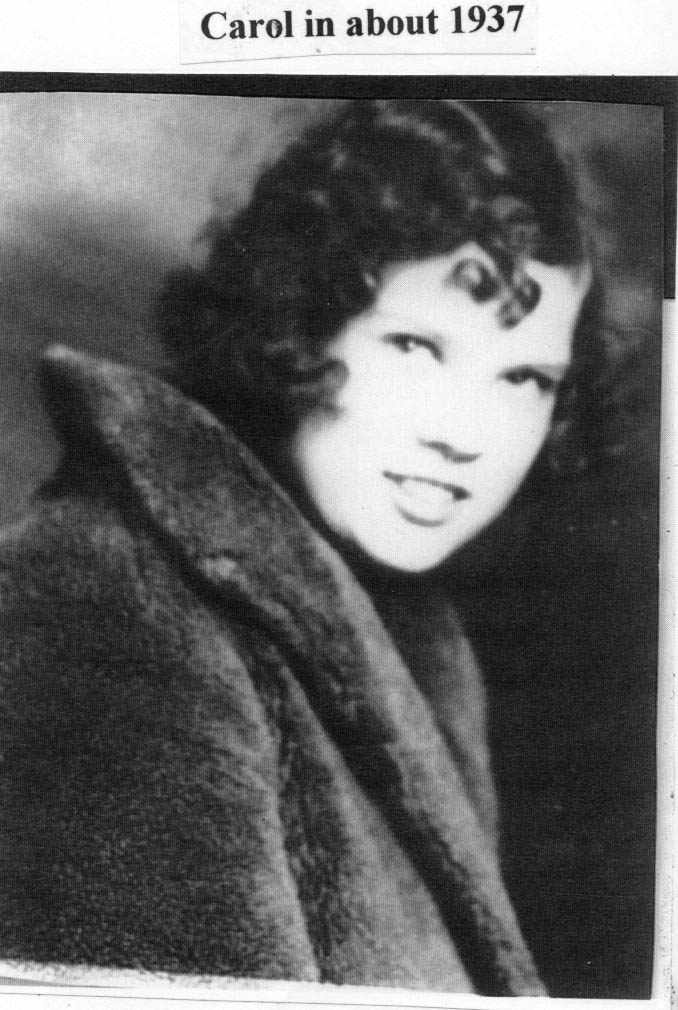 Carol 1937
Then at twenty-five years old, Carol got a job as a waitress at the 5th Street Creamy at the corner of E. Santa Clara Street and 5th Street. She would bring Pat to work with her. Carol started having a love affair with owner, Robert R. W. Johnston, a man twenty-five years her senior. At that time, Bob was a married man with three children. Carol became pregnant with Bob's child. She left Ed and lived at the St. James Hotel in downtown San Jose. I, Joan Carol, arrived on August 5, 1945 at San Jose Hospital. My mother decided to put Krebs as my last name on my birth certificate. When I did get a copy of my birth certificate, I also found out that the certificate had August 4th instead of the 5th.
Bob and Carol went to Mexico. They each got an illegal Mexican divorce and then married. Soon they all moved in together at Locust Street. Bob's son, Russel, was in his early teens and would never forgive his father for leaving the family. It would be over thirty years before they spoke again.
When I was fourteen months old, my baby brother, Robert J., was born at home on Locust Street, October 7, 1946. Carol had the baby alone because the doctor arrived after the birth. Pat remembers fifteen months later when George J. was also born at home on January 5, 1948. Pat had been an only child for six years, now her mother was paying all her attention to the three babies.