"CAT-PERSON" PROFILE QUIZ




Is your devotion to your cat and cat things in the training stage, moderate, or extreme? Or a you an all out shameless "cat-a-holic?" Let's just see how you rate as a "cat person," shall we?


See how many of these can you give an HONEST "yes" answer to:

yes or no?




















































Score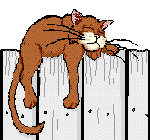 Free JavaScripts provided
by The JavaScript Source