Profile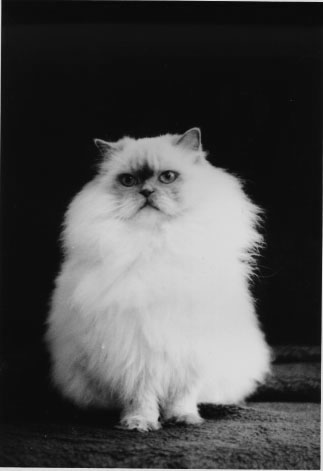 Portrait 1999
I took his picture for a photography class assignment.


Breed: Lilac Point Himalayan (Persian)
Nickname: Baby
Age: 14 1/2
Died: 2/26/02
Loved to: *get 3 meals a day+snacks *bug me when I'm busy (computer kitty) *sleep on "HIS" (my) bed/pillow
*grooming *lovies in morning (especially when I'm eating) *be chased
*be as close as he can be to me
Fav food's: *cornbreed *breed *pasta *rice
Baby is on a low protein diet now because he has kidney disease; so no more meat, chicken, fish & cheese...but he does get & need lots, lots, & lots of water! Now he eats soft food Senior safeway 6% protein and gets vitamins. He also has a nice drinking fountain. Many senoir cats do end up with this problem because they don't drink enough water.

After a good 6 months of his new diet, I'm afraid to announce that Baby's health is declining. He has lost his jumping balance. Now he has a blood clot in his left paw and having trouble walking from what appears to have been a stroke. Poor Baby!





Angel:Photos

Cat Album

Magic:Photos